Our successful case histories
We collected some significant case studies that tell why choosing Bellini lubricants. The common denominator is that Bellini makes you save money and increase production by reducing machine stops. Our customers are our best promoters.
Those who think green produce more
Productivity increased by 25% and machine cycle times reduced by 6.39% is what Didimo Zanetti, the leader in gear manufacturing, achieved by replacing mineral oils with Harolbio 5, a straight cutting vegetable oil.
Didimo Zanetti, one of the largest Italian manufacturers of gears, with two production sites, one in Bologna and one in Aprilia, chose Bellini coolants to increase its competitiveness on the market. In particular, after a series of comparative tests with other products, the company identified in Harolbio 5 vegetable oil the best replacement to the mineral oil used for so many years. The initial test was carried out on a spiral gear-cutting machine. The customer's requests were to have a multifunctional oil to be used both for cutting operation and for the lubrication of the hydraulic system. The customer wanted also to reduce the smell, to lengthen the tools life and to shorten the production cycle. The surprising results convinced the company to extend Harolbio to all the machines at the two plants.
Achievements
Harolbio enabled the gear-cutting machine to perform dramatically better than what it used to do with mineral oils. In particular, using Harolbio, the machine reduced the cycle times by 6.39%. In addition, the number of parts processed per sharpening went up by 25%. This dramatically increased productivity and led to much cost saving.
Harolbio is completely vegetable and free from P.A.H.. It delivers improvements in the hygienic and sanitary conditions both on the environmental side and on the worker's health.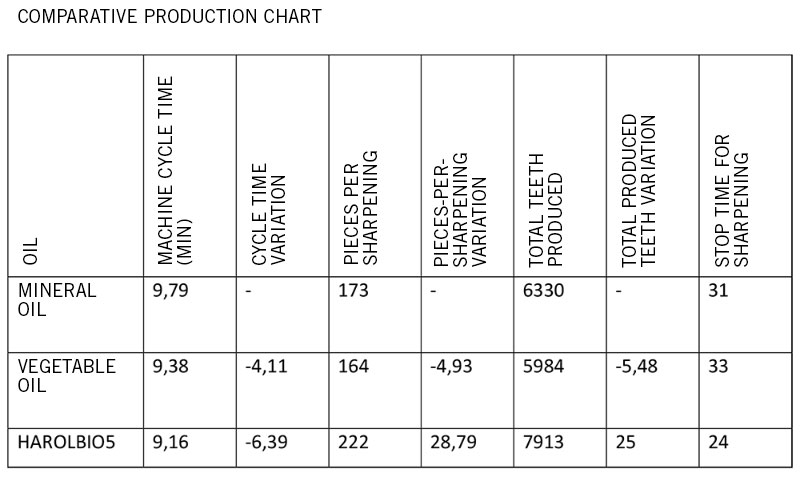 Titanium deep drilling is safer with bio-lubricants Alfa Laval Olmi, the global company based in Sweden, chose Harolbio 1 FP for special machining such as titanium deep drilling. The advantages are tangible: reduction of 1/3 of the number of drilling tools purchased, 55-60% saving on tools cost, 30% decrease in machine downtime.
In the site in Susio (Italy), Alfa Laval, Sweden's leading manufacturer of heat exchangers, decanters and separators, performs tough operations such as the creation of more than twenty thousand 12.9 mm diameter holes, a triangular drill pitch on 12 grade titanium tubing plates, for a depth of 350 mm.  Alfa Laval decided to replace water miscible fluids with Harolbio 1 FP, a vegetable straight cutting oil. Harolbio has been a winning choice in many ways. It is safer and delivers a better machining performance in extreme duty operations such as titanium deep drilling. This type of operations is generally perfomed using mineral lubricants; such oils have a very low flash point and they may also cause explosions. Harolbio 1 FP, compared to mineral oils of the same viscosity, has a much higher flash point; it also prevents explosions and acts as a self-extinguishing agent. The benefits of shifting to Harolbio were tangible and immediate. Firstly, Harolbio improved the drilling capabilities of the machine: given the higher oxidation stability and high lubricant power, Harolbio delivered a 55-60% savings on tools cost and a reduction of 30% of machine downtime. In addition, when the drilling tools reach a minimum size, instead of throwing them, they are reused for making lower diameter holes.