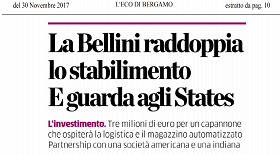 L'ECO DI BERGAMO TALKS ABOUT US
30-11-2017 Article: Bellini doubles its plant and looks towards the States!
The investment.
Three millions euros for a warehouse that will host the logistic and the automated warehouse in order to deal with the abroad growth.
Our firm area will double its extension, from 3000 to 6000 square meters.
The new plant's completion date is estimated for September 2018.
By the end of 2018 or early 2019 another 500.000 euros investment is planned, in order to double the production capacity with brand-new machinery.
Bellini Spa' numbers
To this day, 10.500 tons of lubricant oil are being produced. With the ongoing investment, the production capacity will raise to 25.000 tons and it cannot be excluded that also the offices and the R&D lab will be extended in the near future.
In this respect, a feasibility study has been already conducted.
The investment is tied not only with the company growth but also with the occupational one!
Indeed, the workforces has exceeded 50 employees.
As a matter of fact, to this day, the employees are 52 with an average age of 30.
Here it is the new plant's rendering