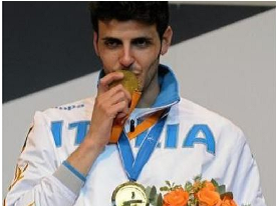 Foil world champion Andrea Cassarà and Bellini Spa together!
Bellini becomes sponsor of Brescia Scherma and Bergamasca Scherma that can claim Andrea Cassarà as its coaching staff manager.
Why this union?
The noun foil ("fleuret" in french) derives from the custom, born in the fencing schools, of putting a "safety button" on the training weapons.
Bellini with its more and more green technology keeps safety as its focus, carrying out protection policies in order to prevent accidents and occupational diseases and offering to the workers the chance to improve their health, reducing the risk factors involved in the genesis of chronic diseases.
The friendship with Andrea Cassarà
The sport is part of the Bellini's conviviality moments. The family day, at its fifth edition by now, is a moment where sport and family values are the focus of this event, which aims to create a group where responsibilities and roles are cancelled.
Here is the answer to why
Bellini is not just a company. In the first place, we are a community of people sharing values and experiences respecting the territory and the environment.
Let's know better the champion Andrea Cassarà
Raised in the Brescia Scherma team, "acquired" from the Carabinieri section then, under the guidance of his last coach, Massimo Omeri. A basketball player body, a Zorro thrust!
Foil individual European champion for 4 times in Moscow, Zalaegerszeg, Kiev and Montreux, individual world champion in Catania and team Olympic champion in Athens and London. In Athens 2004 he won also the bronze as individual. He won 5 Foil World Cup (3 consecutive: 2011, 2012, 2013). 6 team world championship and 5 team European championship. His coach is the master Eugenio Migliore and his athletic trainer is Cristiano Durante. He has won the highest number of foil world cup matches in all its history, becoming a record holder.